Why did you choose the people who are in your life?

Why did you plan your most difficult challenges?
How can you heal and experience more love, joy, and peace?
Get answers and read about a powerful way to...
Sign Up for My Newsletter
Sign up and receive a free PDF excerpt from my book "Your Soul's Gift: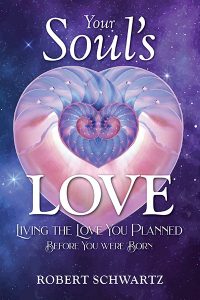 Testimonials
"I truly can't say enough about Rob Schwartz and his skills as a hypnotist and facilitator and the extraordinary soul journey of self-discovery this has brought to me." –Theda H., USA
"The session was a remarkable clearing to my inner guidance and a deeper understanding that I am on track with my 'soul plan." –Sandy S. Cheshire, UK
Make a donation to the Library Book Donation Program
Video of the Between Lives Soul Regression I did with Elisa Medhus of the Channeling Erik blog.
Talk with the Council of Elders to discover your life plan and purpose. Also known as a life between lives regression or LBL.
Join Rob, Liesel and the BOL (Beings of Light) for a journey into enlightenment.
Your Soul's Plan
Your Soul's Plan: Discovering the Real Meaning of the Life You Planned Before You Were Born explores the pre-birth planning of physical illness, having disabled children, deafness, blindness, drug addiction, alcoholism, the death of a loved one, and accidents.
Your Soul's Gift
Your Soul's Gift: The Healing Power of the Life You Planned Before You Were Born discusses the pre-birth planning of spiritual awakening, miscarriage, abortion, caregiving, abusive relationships, sexuality, incest, adoption, poverty, suicide, rape, mental illness and more.