Your Soul's Plan
ysp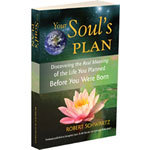 Books by Robert Schwartz
Price :
19.95
USD
In stock
Click here (pdf) to read a large excerpt from the book for free.
Your Soul's Plan: Discovering the Real Meaning of the Life You Planned Before You Were Born
by Robert Schwartz

Would you like to understand the deeper meaning of your greatest challenges?

So often, when something "bad" happens, it may appear to be meaningless suffering. But what if your most difficult experiences are actually rich with hidden purpose-purpose that you yourself planned before you were born? Could it be that you chose your life's circumstances, relationships, and events?

Your Soul's Plan tells the stories of ten individuals who-like you-planned before birth to experience great challenges. Working with four gifted mediums and channels, author Robert Schwartz discovers what they chose-and why. He presents actual pre-birth planning sessions in which souls discuss their hopes for their upcoming lifetimes. In so doing he opens a window to the other side where we, as eternal beings, design both our trials and our potential triumphs.

Through these remarkable stories of pre-birth planning, you can: Learn why each of us decides to experience such challenges as illness, the death of a loved one, and accidents. Other challenges explored from the perspective of pre-birth planning include being the parent of a handicapped child, deafness, blindness, drug addiction, and alcoholism.
Understand how you as a soul create your life blueprint
Consciously use your challenges to foster spiritual growth
Understand that the people in your life, including your parents and children, are there at your request, motivated by their love for you to play roles that you scripted
Replace anger, guilt, and blame with forgiveness, acceptance, and peace
Deepen your appreciation of and gratitude for life as a soul-expanding, evolutionary process
Your Soul's Plan: Discovering the Real Meaning of the Life You Planned Before You Were Born was previously published as Courageous Souls:Do We Plan Our Life Challenges Before Birth?

After you purchase a book or books, you will receive an email confirming that your order was received. Please note, however, that we do not send an email notifying you that you order has been shipped, nor do we provide any tracking information.
Special Note If You Live Outside the US: The least expensive shipping method for you is USPS Priority International Flat Rate Envelope; however, you may choose this shipping method only if you are purchasing ONE item. (The type of item does not matter.) If you are purchasing more than one item, please select another type of shipping. Thank you.
Special Note if You Live In the US: During the checkout process you will be able to select from a variety of shipping options. The least expensive option is media mail, which does not provide a guaranteed delivery date. Also, although shipments by media mail take 2-9 business days during most times of the year, we have found that media mail shipments often take much longer (up to three weeks) during August (due to the number of Postal Service employees on vacation) and December (due to the large volume of gifts being shipped). If you are placing your order during August or December, or if you require a guaranteed delivery date, we suggest you choose a form of shipping other than media mail.